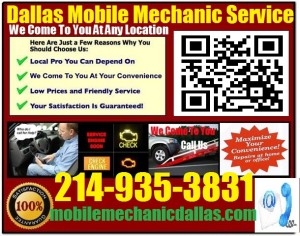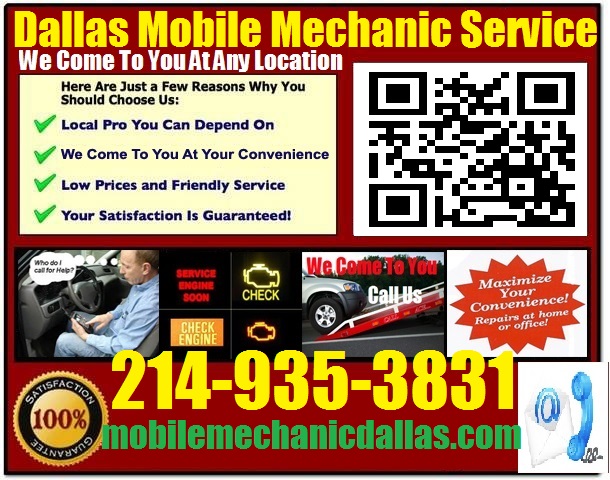 Mobile Mechanic Lewisville TX Auto Repair Service Local garage technician shop on wheels that comes to you to fix your car or truck at home near me by Call 214-935-3831 for pre purchase foreign vehicle inspection evaluation review. There are many reasons why you need mobile mechanic Lewisville Texas company. If you want to find out what some of these reasons are, then we encourage you to read the rest of this article.
Other Dallas Mobile Mechanic Service We offer
Pre Purchase Car Inspection Service
Foreign Import Auto Car Repair Service
Foreign Auto Repair Lewisville Texas
Do you own a foreign car because if you do, then you will need it repaired from time to time. You don't want to spend time calling shop after shop, but you don't have to. A mobile mechanic will go to your location, inspect your foreign vehicle and then make the necessary repairs. It's as simple as that. The next time something goes wrong with your foreign vehicle, contact a mobile mechanic.
Pre Purchase Car Inspection Lewisville
If you want to purchase a vehicle in Denton County or the surrounding area, then make sure you take the time to inspect it. However, you might not have the time or you might not know what to look for when inspecting a vehicle. A mobile mechanic can perform a pre-purchase car inspection. This means they will go the the location of the car you're interested in buying. The mechanic will perform a thorough inspection, and then you'll have a clear idea whether or not it is in good condition and if it's worth buying. This may save you a lot of time and headaches.
Convenient
You need a mobile mechanic because you're busy and you don't have time to bring your car to a shop, wait for it to be fixed and then pick it back up. Instead, a mobile mechanic will go to your home or business, fix your car and tell you whether or not additional repairs are needed. Using a mobile mechanic is far more convenient than going to an auto repair shop.
The next time you need the services of a mechanic, contact a mobile mechanic. As you can see, there are many benefits of doing so and no 24 hours emergency tow need it house buyers Dallas.
Dallas Mobile Mechanic Services
Lewisville, 75029, 75057, 75067, 75077, 75022, 75027, 75028, 75056